Have you ever seen a business card and thought " did they make that in Word?" You know you've seen those cards--terrible graphics that look like they're from the free Word clipart library; amateur, everyday resumé fonts; and low quality printing that makes the situation go from bad to worse. YIKES!
When you meet someone in person and hand her your business card, she's instantly profiling and making assumptions about your business based on how it makes her feel. Your brand can feel like a strong professional handshake, energetic high-five, a warm hug---or, errr, an awkward, uh see ya later.
So today, I'm breaking down 10 essential areas people are judging when looking at your business card and website. Give your biz visuals a self-audit to see if you're due for a branding makeover to start getting some calls back.
Do you love your business card and feel it represents who you are and the vision of your business?
LOGO + FONTS +LAYOUT: Does your logo stand out? Or does it look like Word clipart? Does your business card layout look like it came from a template? (Must all attorneys use that same card style? You know the one!)

STYLE: Is your business card luxurious (should it be?) Or is it more relatable, down to earth?

PAPER & PRINTING: Are the cards thin and flimsy? Or premium and firm (like a good handshake!)?

COLOR PALETTE: How do the colors make people feel? Are they cheery, serious, stark, preppy, inviting?

PROFESSIONALISM: And does your email end in gmail, yahoo or aol.com? Your brand URL better be in there too! There is nothing more amateur than a business card with a hotmail, aol--you get the picture--email on it.
Did you realize your business card was doing all of these things? From the colors of your brand, to the type of paper and printing method you use, your card can be a loaded representation of your business. Your business card should contain all the important details in an creatively appealing, eye-catching way. Show off something elevated and unexpected when you hand over your card.
My card is printed on 19pt paper with a smooth top finish and gold foil accents. Nerd paper speak for: firm but lightweight, premium paper with a high end (eye catching) element. My colors and overall brand look is purposely designed to be feminine, but cool, while also fresh and professional. The thick high-end paper with foil print lets you know I am working with businesses who want a high-end designer offering premium services with meaningful details. If my card was flimsy, with cliché graphics, would I be memorable and more importantly, be representing my brand as someone you want to hire?
And what about your office or storefront?
Oh, you're an online biz (aren't we all now!)?
Did you know your website is your office? It's the storefront and reception area for your brand. It's the physical representation of who you are or who you WANT to be for your clientele. Have you ever changed your mind about a restaurant because of the website? Skipped calling a new doctor because she didn't even have a website, or worse, it looked unprofessional? Give your website a quick audit:
WHAT EXACTLY IS YOUR BUSINESS: Is it clear what you're offering and the solution(s) or services you provide? Have you ever landed on a website, only to leave confused about what the biz is selling or offering? (it better be on your home page)

FUNCTIONALITY: Is it easy to navigate? This should be a no-brainer, but sometimes overly fancy designs get in the way of purposeful design.

DIY OR PREMIUM: Does it look like a DIY site which isn't the clientele you're after? Maybe your business started as a hobby, but your needs and audience have grown. Is it time for an upgrade?

ENGAGE, INFORM, OR ENTERTAIN: Does it represent your brand in a cohesive manner and engage potential clients? The average person only spends a few seconds judging and fiddling with a site before ditching it for the next one if the content isn't there.

HOW CAN SHE REACH YOU: And is that darn 'Contact us' button easy to find? (How many times have you given up on a company because you couldn't quickly find a way to reach out?)
Is your head spinning now? Your website should do all these things and more. It should weave together your brand story through colors, innovative but fitting graphics, typography, and a layout that converts from someone surfing the web to clicking to contact you for business. If I had a studio office, this would be my ideal look and feel (sub the bed for a gorgeous chair in that fabric ;-))
Since my business is online based and I can't welcome you into an amazing studio space, I've taken how this room makes me feel and brought those elements to my website. Do you get that same elevated, but fun, fresh and feminine vibe from visiting my site?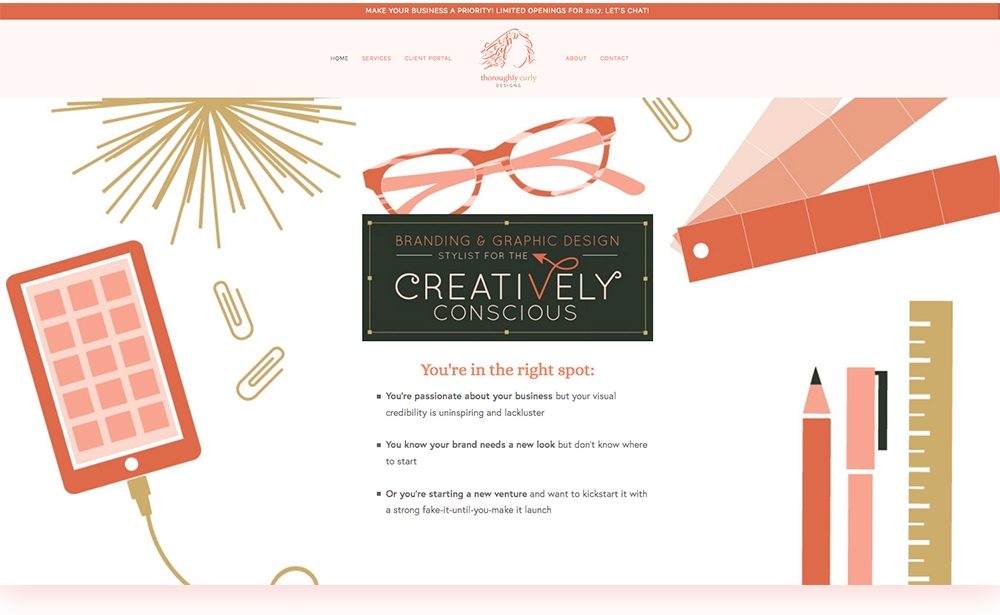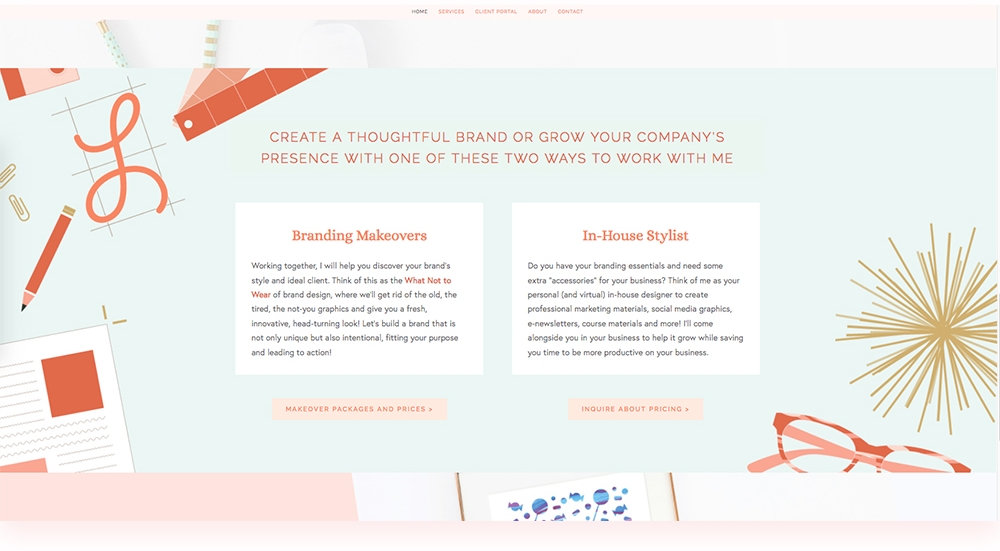 I hope you feel it too! Your website should channel the same physical presence your office or storefront would evoke. It also needs to be cohesive with the rest of your brand, from your logo to the color palette, typography, patterns, and icons.
It's your job to educate your client on what you do & who you are.
Your business card, website and all other visual brand items are educating potential clients on your brand. Are you demonstrating your worth or undervaluing your services and offerings? If you've DIY'd it in the past or hired someone who didn't get your vision (maybe you didn't at the time either!), it might be time for you to have a branding makeover. Let's get rid of the tired, not you graphics and give you a head turning look.
It's time to forget about the embarrassing business cards and disappointing online presence. I'll makeover your brand whether it's day 1 of your company or day 1,000 so you can start killing it. I only have two openings in my 2017 calendar for custom branding work and they won't last long! Shoot me an email from the brief form on my website and we'll explore how to launch your new biz or turn your current brand around!