Being a branding designer is a little bit like method acting--you get to pop yourself in someone else's shoes and take on their persona. But in the case of being a designer, I get to use my skills and creativity to find the best way to showcase what differentiates my client and ensure that their visual appearance matches up with the level of service they provide.
As you can see, my latest branding and website design for Jay and Ray, Jams for Fams is no exception to how much fun and impactful great design can be. Jay and Ray teach SUPER fun music classes for babies and toddlers and perform at parties and events. Their classes and performances are exciting, energetic, and engaging, with education in mind--but their website and marketing materials fell short of capturing their energy and their audience!
"The way I see it is that we've worked hard on the "inside" and now we need to work on the "outside"." - Jay and Ray
Jay and Ray had a new logo created fairly recently, but it needed a few refinements to make it more polished and an updated color palette. They also needed a fleshed out brand guide to feature fonts, colors, custom patterns, and graphic elements. Having a complete brand package allows your brand to consistently show up in all of your visuals and give brand recognition in print, online and in social media.
The Branding & Design Process
Step 1. Determine Color Palette
I loved the color family of Jay and Ray's logo but felt it needed to be a bit richer and deeper in tone in order for the colors to complement each other and work better on collateral and new website.
Step 2. Logo Refresh
Their original logo was already really fun and I loved the style and quality of the illustration. I modified the colors with the new palette and made a few refinements that gave it a more polished look.
I liked the original font used for "Jams for Fams" but a playful font like this is more suited for headers and accent text in marketing materials. The use of it here clashed with the main font used with "Jay and Ray", and instead of complementing the logo font it was competing for focus. This angular sans serif font allows "Jams for Fams" to have more air and made for a great complementary font to carry into a secondary logo option.

I decreased the guitar size - this allowed me to center "Jams for Fams" in the logo.
The color palette was modified to use richer colors, while still being hip and fun!
I outlined the circle around "Jay and Ray" to keep consistency of the drawn instruments and give it a more finished look. I also centered "Jay and Ray" within the circle.
I changed the clef to red to add more interest and incorporate the color palette. This is also an element I carried through into the secondary logos.
Step 3. Brand Style Board
Once the logo is ready to go, we round out the makeover for a complete look. Think of it as your brand accessories: secondary logo designs, icons and graphic elements, signature patterns, type selections, and your color palette. Custom patterns and graphic elements really allow you to show the essence of your brand and give brand recognition throughout your visuals. AND they are really fun to make! The record pattern is my favorite! With these items in your design closet, we can put together a cohesive and distinct looks across all of your visuals.
Step 4. Visuals
Once we had all of their design elements finalized, the visuals were as fun to design as they look! I created static designs and templates for Instagram/Facebook posts:
A New Facebook cover photo and Mailchimp email template:
Two double-sided flyers and an A-Frame: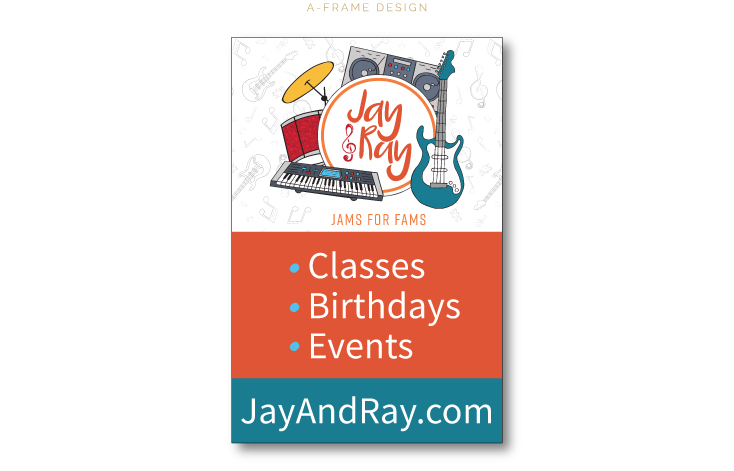 Step 5. Custom Squarespace Website
The last, but biggest step was a completely new and custom Squarespace website. Jay and Ray needed a website that was mobile friendly (for sharing between parents at the playground and on-the-go!), easy for them to update, and captured the excitement, energy, fun and education-based content they bring to their classes and performances. Check out the screenshots below or visit their newly launched site!
With a cohesive and distinctive brand, that is uniquely Jay and Ray, they can now showcase the quality of their services and captivate their audience. In a multiscreen, digital and social world, your visual presence is important. Perception becomes your potential customers reality. Your originality in your niche will set you apart in your market, driving the ideal customers to you.
What do you think of the branding makeover and new website for Jay and Ray? Do you feel the fun, energetic, exciting vibe but with a polished professional appeal? Does your brand need a makeover? Learn more about my branding and web design packages or contact me today!